Written by v on February 14, 2012 – 12:29 pm -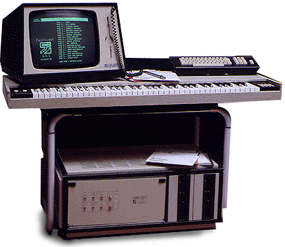 The Fairlight CMI (Computer Musical Instrument) was the world's first polyphonic digital sampling synthesiser. It was developed in Australia by Peter Vogel and Kim Ryrie and first released in 1979.
It could record natural sounds from a microphone, then allow the user to view and modify the waveforms on a monitor using a light pen. Sounds could also be constructed from scratch by drawing a waveform on the screen. There was also a large library of pre-recorded samples on floppy disks, which became staples of 80's pop music.
To understand how revolutionary the Fairlight CMI was at that time, most electronic musicians were still using analogue synthesizers that required manual patching of cables or setting lots of switches and dials.
The Series I Fairlight was equipped with a 73-key velocity-sensitive keyboard and supported 8 voices, each with a sample memory of 16kB, allowing sounds to be sampled at 16kHz with 8 bits of resolution. By the mid-80's, later models had increased this to allow 16-bit sampling and higher sample rates.
Due to its use of cutting edge technology, the Fairlight CMI was very expensive, with a base price around $25,000 in 1980, and was only affordable by big-name musicians, production studios and universities. Famous users of the Fairlight include Peter Gabriel, Stevie Wonder, Kate Bush and Thomas Dolby.
Here in Australia, the Fairlight was famously used to create the sounds on John Farnham's hit "You're the Voice", released on his "Whispering Jack" album in 1986.
Despite the high price of the Fairlight CMI, it remained popular long after cheaper alternatives like the E-mu Emulator and the Ensoniq Mirage entered the market, and has left a lasting legacy.
Here are my favourite videos of the Fairlight CMI in action
Peter Vogel and Michael Carlos demonstrate the Fairlight CMI on ABC TV in 1980
Art of Noise – Moments in Love
The "Orchestra Hit" sample is a classic sound:
Herbie Hancock demonstrates the Fairlight CMI on Sesame Street
Herbie actually demonstrates quite a few of the capabilities of the CMI, including Waveform decomposition and vocoding. Who says Sesame Street is just for children?
For More Information
Tags:
Fairlight CMI
,
Peter Vogel
Posted in
Educational
,
News
|
No Comments »